Why did you start this business: I saw a need. It is something I began doing as a hobby, because it speaks to my creative side and my passion for technology, and I realized that there is a huge market for this type of service. I had a lot of people ask me to create photo and video productions when they saw what I was doing.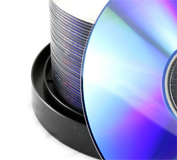 The most important thing to understand is that by converting VHS over to DVD you are increasing the life span of your video footage. VHS is an analog format; meaning over the lifespan the tape gets worn down, and loses image quality every time you play it, rewind it, or just use the tape, or don't use the tape; even though it's just sitting there in storage it's losing image quality; even though you may not notice it, after fifty years you look at it, and it's not the same. A DVD won't lose quality, and its lifespan is much longer. Other reasons to convert are convenience, storage and ease of access. With VHS you have to fast forward and rewind to find certain points in the footage, and if you convert to DVD correctly then you can access different scenes and jump directly to them, so it's easier to find the footage that you've shot.
We think your precious memories deserve much more personal attention and care. We offer MUCH more than simple and unattractive textual DVD menus or ordinary jewel cases. Click on Gallery to see a sample of what we can do. We fully customize your order to meet your needs, and we treat your videos as if they were our own family's memories - all at a very reasonable cost.
Want more customization, let us know! We're also local to the Cleveland downtown area, so we're probably just a short drive away -- although we do accept orders shipped from customers nationwide.
Your irreplaceable home movies and videos deserve better - let VHS to DVD Services help!