Everyone has boxes full of VHS tapes they never look at. And when they finally get around to it, they find the media has faded and degraded. Studies show that videotapes can begin to fade after only one play! DVD makes it fun and convenient to preserve those old memories and to share them with friends and family. Most importantly, DVD lasts a lifetime. VHS to DVD Services will professionally transfer your home movie videotapes and memories to high quality, long lasting DVD.
VHS tape to DVD Transfer
Our VHS to DVD process will transfer your memories into a long lasting DVD.
No editing. The DVD will contain exactly the same material as the master.
How much do we charge?
The price to convert any size tape (straight conversion tape to dvd) from the following formats (8mm, Hi8, VHS-C, VHS, MinDv, HDV) for up to 2 HOURS of video is $16.99. If your tapes are longer than 2 hours please send us an email by clicking here
* High Volume Order discounts are available. Please click on the Offers and Coupons link to view the latest coupons and discounts available. To apply coupon codes copy and paste the coupon code in the coupon box when checking out.
* Please call 216-394-1482 for any other form of custom order that is not included in our Services page.
Convert your VHS Videos to the most popular video formats (MediaConvert):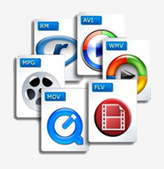 We convert your VHS tapes or videos to a wide variety of video formats to suit your needs: MPEG-1, MPEG-2, MPEG-4, MP4 (iPhone/iPad), Quicktime MOV, Flash FLV, Windows Media Player WMV, AVI, RealVideo RM, DIVX, XVD and more.
With all the different video formats available today, you need a solutions provider who fully understands CD-ROM based video and who can make it work for you. No matter what the format of your original source, VHS to DVD Services can deliver top quality video encoding specifically tailored to suit your needs.
The price for transferring any video into any of the above video formats is $16.99 for up to two hours of video.